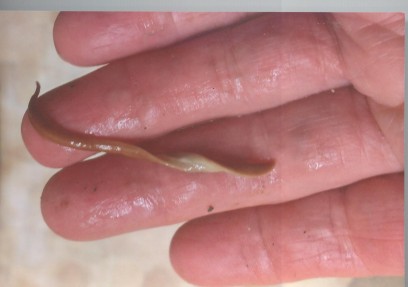 Have you seen any of these? It is a non-native invasive species, the Australian flatworm (Australplana sanguinea). This year I have found a dozen in my backyard at Warton, often climbing up the wall when it is raining. Prior to this they have been recorded on tennis courts in Lancaster in 2019. They mainly eat earthworms and it is said they can seriously deplete the soil of them.
Words and Photograph Linda Renshaw
The Group is a local group of the Wildlife Trust for Lancashire, Manchester & N. Merseyside, primarily for members living in the Lancaster City Council District and immediately adjacent areas of Lancashire, South Cumbria and North Yorkshire. Meetings are open to all members of the Wildlife Trust. If you are not already a member, come along to a few meetings and, if you like what we do, join us. The Committee coordinates all the work of the Group and, in particular, arranges meetings,field outings, recording sessions, working parties on local reserves and the production of the annual magazine. The Recorders receive and collate records to help conserve interesting sites, to monitor changing numbers and distribution of species and to contribute to national recording schemes.
Membership
Members of the North Lancashire Wildlife Group can enjoy:
Information on events, particularly any changes or extra events at short notice
The right to borrow from our library of books and equipment
Priority booking for certain events
Membership is free
We will never share your details with any other organisations.
At any time, you may notify the group that you wish to be removed from our membership database.
North Lancashire Wildlife Group is committed to protecting your privacy. It is very important to us and we respect anyone's concerns about maintaining it. This statement tells you how and why we use your information.
How we use your data
We do not sell your details to third parties. We will only use your data to keep you up to date with information about our group meetings, special events and information specific and relevant to our group.
You may change the way in which you receive information from us at any time:
Email: membership@nlwg.org.uk
Telephone: 07361 380255
We understand that you have trusted us with your personal data and in addition to our own high standards and values, we are also associated with the Wildlife Trust for Lancashire, Manchester and North Merseyside, who are also members of both the Institute of Fundraising and the Fundraising Standards Board. Their strict policies regarding the protection of your data can be found on their websites.
Access to Your Own Information
You can contact us any time by letter or telephone to change or update your details, or obtain a copy of your record. If you have any problems or queries about your data, please contact us on the details above.
Security
We ensure we take all the necessary steps to collect and store your data securely. The database is stored on a cloud-based server with password protection, accessed only by authorised committee members, primarily the Membership Secretary.